Interview with Mr. Yu Shuisheng, Chairman of Sylmon
Yu Shuisheng, Chairman of Jiangxi Sylhao Furniture Co., Ltd.

Today, the quality of Shermo mahogany furniture has become one of the domestic high-end products. The company has passed ISO9001: 2000 international quality system certification and ISO14001: 2004 environmental management system certification. More than 200 kinds of furniture such as "Jinxiu Zhonghua" and "Auspicious Ruyi" are exported to Fujian, Zhejiang, Beijing, Shanghai, Wuhan and other places. It has won the favor of many merchants.
[Growth Story]
Bao Jianfeng from the grinding
When I was a child, Yu Shuisheng had many brothers and sisters and family difficulties. After graduating from junior high school, she returned to the production team as a small farmer. At that time, Yu Shuisheng, although the family worked hard and saved their lives, they still could not fill their stomachs. In 1979, Yu Shuisheng began to learn carpenter technology. After three years of hard work, Yu Shuisheng has only two hundred yuan in his family, and he has joined the rolling tide of work and has come to the forefront of China's reform and opening up.
Yu Shuisheng thought that there was a handicraft technique and it should not be difficult to find a job. I don't think that when people heard that Yu Shuisheng was from Jiangxi, they shook their heads and said they didn't need it. At that time, Yushuisheng had not heard of mahogany furniture, and he did not know that the raw materials for making mahogany furniture were quite expensive, the workmanship requirements were quite fine, and the requirements for practitioners were very high. In the mahogany furniture factory in Guangdong Province, only the woodworking talents in Zhejiang Province are generally recruited. Yu Shuisheng, who is young and unsatisfied, knows the situation and insists on this line. He assured the owner of the mahogany furniture factory that he could not pay a penny for the trial period, and if the raw materials were damaged, the raw materials would be compensated. Under the soft and hard entanglement of Yu Shuisheng, the boss barely accepted the little carpenter from Jiangxi Province.
Yu Shuisheng also made plans to break the boat. After painstaking study and painstaking research, Yu Shuisheng became more proficient in woodworking technology and won the trust and appreciation of the boss. In 1991, Yu Shuisheng was elected as the director and design director of the woodworking workshop by Zhongshan Yongcheng Hongmu Furniture Factory. In 1993, the Shixin City Taiwan Affairs Office of the Shishi City, Fujian Province, Meixin Redwood Furniture Factory hired Yu Shuisheng as the director of the factory, allowing Yu Shuisheng to have a bigger stage of entrepreneurship. In the busy work, Yu Shuisheng also took the time to take the self-study exam and obtained the title of craft artist.
Rainbow after the storm
In 2000, under the attraction of the preferential policies for attracting investment from the county, Yu Shuisheng resolutely gave up the high-paying position of Meixin Hongmu Furniture Factory, returned to his hometown Dashi Township with more than 20 brothers and workers, and rented a factory to start the business. The first mahogany furniture factory in the Northeast, Meixin Furniture Factory, started its new road to entrepreneurship. Because of the company's business philosophy of "people-oriented, quality first, and sincere treatment", Yushuisheng's enterprises continue to grow and develop. In October 2003, Yu Shuisheng acquired 20 mu of land in Guangfeng Industrial Park and established Jiangxi Shermo Redwood Furniture Co., Ltd. The company has built a new factory building covering an area of ​​13,000 square meters, as well as staff quarters, staff canteens, office buildings, luxury exhibition halls, and so on.
Yu Shuisheng knows that talents are the key to development. To this end, Yu Shuisheng did not hesitate to hire a top domestic mahogany furniture designer from Guangdong Province for an annual salary of 200,000 yuan. At present, Symore has a large number of design and manufacturing talents who have won the essence of Chinese classical furniture culture and ergonomic principles. The senior staff has a monthly salary of more than 8,000 yuan, and the average monthly salary of ordinary employees is not less than 2,500 yuan. At the same time, the company also invested 10,000 yuan each month to invite Zhang Ningjun, the enterprise manager of Taiwan's famous entrepreneur Guo Taiming, to teach one day to recharge the company's employees. Since the establishment of the company, all employees have been dining free of charge in the cafeteria. If the couple are both employees of the company, the couple live in a single room; in the winter and summer, the company also provides 4 sets of uniform clothing for employees, and works for each employee.
In terms of product quality, Yu Shuisheng not only insists on carving every piece of furniture as a high-end art, so that it inherits the delicate crafts of Ming and Qing Dynasties and integrates modern humanistic thoughts, integrating practical value, appreciation of value, and collection. The value is integrated into one, blending classical style with modern popular elements, and solemnly promises to customers that if all the mahogany furniture finds a fake material, it will be compensated according to the price! After the product is sold, it will be maintained for life!
The protection of talents, intimate service, and honest operation have enabled Sylmon to quickly embark on the fast track of development. The company's products have won the favor and favor of consumers, and are exported to Shenyang, Guiyang, Qingdao, Hangzhou, Xiamen, Nanchang and other major cities in the country, and more than 90% of them are customers who come here and come to buy. At present, the company is implementing the "3510" plan in accordance with the new development goals: it will use 50 years to plan to reach 50 mu of land, 400 employees, and output value of 200 million yuan; plan to reach China's well-known trademarks in five to ten years and become a listed company. .
Boxing service
"As a small carpenter who came out of a remote rural area, without the support of my hometown, I would not have my career today." When Yu Shuisheng talked about his own career, he could not restrain his gratitude for his hometown. He recalled with deep affection that in 2001 he just returned to Dashi Township to set up a factory, the funds are very scarce. In the spring of 2002, he took a try and entered the county government compound to seek financial support. I did not expect the county government to go smoothly. He approved a special loan of 100,000 yuan to him. It is this 100,000 yuan fund that injected his life into his own blood.
"My hometown has let me enter the spring of my career. I must use the fruits of autumn to return the greatness of my hometown." Today, Yushuisheng is ambitiously implementing the five-year plan of the company and striving to implement the company within three to five years. The output value has increased to three to five hundred million, making greater contributions to the economic development of Guangfeng. In addition, Yu Shuisheng has a bigger blueprint. He said that as the hometown of sculpture, Guangfeng has a large number of skilled craftsmen and mahogany furniture sales talents who are carving outside. He hopes to use Shermo as a leader to attract them to return home to start business and to make Guangfeng a Chinese mahogany furniture production and sales. Base, for Jiangxi to sigh. While urging the development of the enterprise, Yu Shuisheng, a member of the county CPPCC, actively took the responsibility and obligation of a private entrepreneur. In peacetime, no matter how busy the work is, Yu Shuisheng must actively perform his duties, participate in political discussions, participate in social welfare undertakings, and take the lead in helping the poor. Up to now, Sylmore has absorbed more than 200 laid-off workers and rural surplus labor. According to incomplete statistics, in recent years, Yu Shuisheng donated more than 100,000 yuan to the Hope Project, the Five Guaranteed Old People and the society in the name of individuals and companies, including donating 20,000 yuan to the Sichuan earthquake-stricken area to repair cement for Shuige Village in Dashi Township. Road donation of 25,000 yuan.
Wine paper boxes are only designed for packing wine , whisky , brandy , beer or ect --So far , we`ve made a lot of wine boxes for our current clients , such as collapsible wine boxes , magnetic book wine boxes , round tube wine boxes and etc . To prevent wine bottles from breaking , it necessary to equip with some protective material such as EVA / sponge/PS inlay to surround the bottles . Generally speaking , EVA inlay is the most expensive while PS inlay is the cheapest one.
Attached you will find some wine boxes we`ve made before for your reference .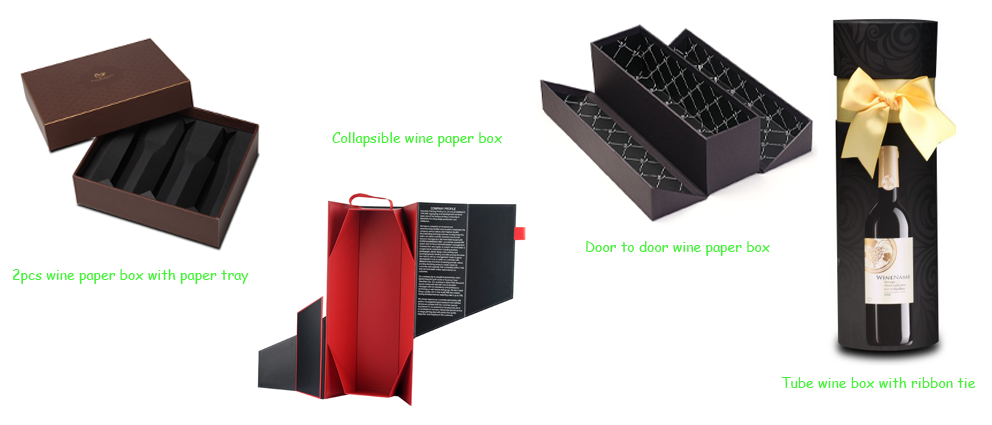 Should any of them be of interest to you , please feel free to contact us for a quotation . It`s also welcome to share with us if you have any new idea on wine packaging , we `d love to help to carry out your ideas into perfect gift boxes .
Custom Wine Paper Box
Custom Wine Paper Box,Magnetic Book Wine Paper Box,Matte Black Wine Gift Paper Box,Luxury Wine Packaging Box
Huizhou Cailang Printing Products Co.,Ltd. , https://www.paperboxs.nl